Essen 2015 – Kaleva
2 player abstract fighting game…
… with cards!
Simple one this…
You have 6 cards and you put them on the bottom of each row.
On your turn you move a piece, like a King in chess.
If you move onto another piece, the defender flips the card over on the row it is in… the attacker flips the card from the column it moved from.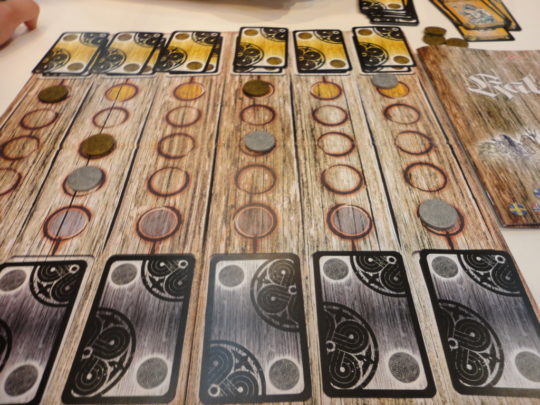 Highest wins, attackers win ties, loser is removed from the board.
On your turn you can bring a piece back into play in one of your corner squares.
Get 3 pieces to the other side to win.
A very good game, but may be reliant on a good card draw? You can play to force combat into columns with your higher cards to try and win more though.
I enjoyed it quite a bit.