Gameday First Play – Automobiles
A very standard deck builder with cubes by AEG…
But it's not Trains.
Drivers, start your engines! Will you cross the finish line first? Now is your chance to find out!
So it's a VERY basic deck builder except you're using cubes in a bag. I refuse to call this a 'bag builder' or anything else. If you make a deck builder, stand by it, don't try and shake the label off 🙂
Anyway, everyone starts with the same cubes with Yellow cubes representing your Garage and White and Grey cubes representing your gears. These are the ones you use to move.
As you don't have a deck you have a player sheet where your 'Hand', 'Played Pile' and 'Discard Pile' goes…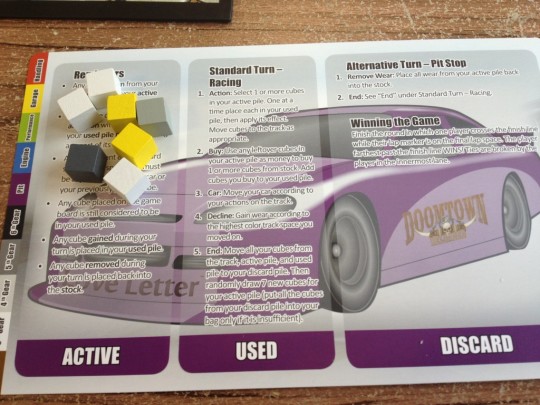 You also get some starting cash to spend on new cubes depending on your starting position. You draw up and you go…
Firstly you start by using your cubes… You can move them to your used pile if they have an ability and do whatever that ability is…
But, more importantly, you can put them on the board. The White, Light Grey, Dark Grey and Black cubes are mostly used for this and you put them on the spaces in front of your car that matches the colour of the track. This makes a train of cubes for your car to follow when you're done.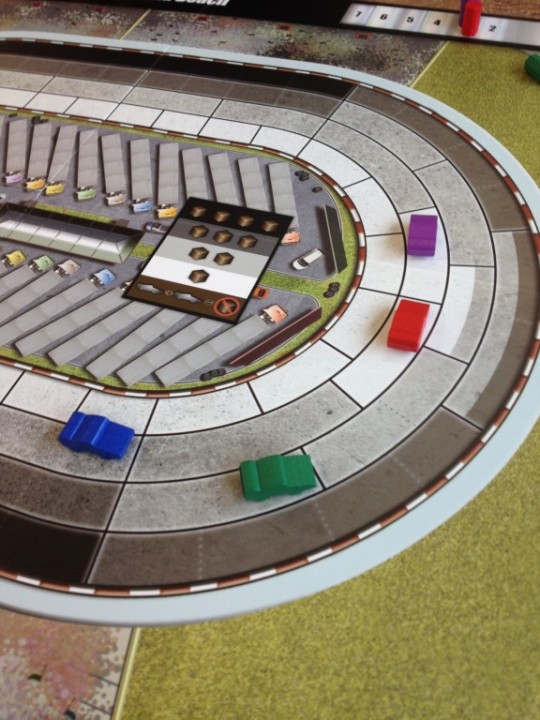 But before you actually move, you use the left over cubes as money to buy new cubes from the supply. You can buy more copies of the movement cubes to put in your discard pile or select from the range of coloured ability cubes.
Garage, Pit, Performance, Handling and Engine all have different abilities and there are multiple copies of each colour of card so game to game these will change.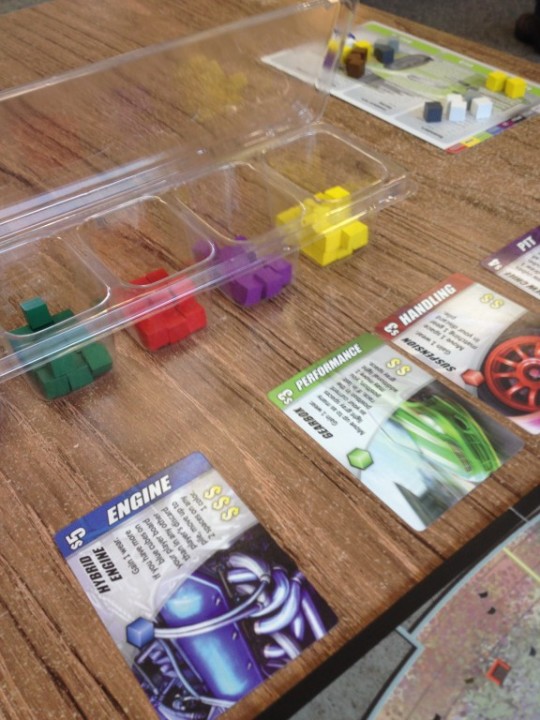 Then you move… This obviously adds wear to your car and this wear comes in the form of useless brown cubes. The higher the gear you move in a turn, the more wear you gain unless you 'Draft' by ending your turn behind another car.
As you can imagine the game end when the race is won after a number of laps…
It is very standard and VERY comparable to Trains but I have both and they're different enough that I can keep both.
I mention a lot that I generally dislike racing games but obviously I exclude actual RACE games. I mean racing to a points total or to a goal.
This works quite well despite the theme putting a lot of people off, which seems to be the theme of games I bought recently.
Oh well! I'll keep playing this while people will play it with me 🙂