Essen 2014 – Lap Dance
A quite controversial game…
Well, now I've played it, twice.
You're trying to earn the most money by giving guests what they want. These are drinks, cigars, men, women etc
You're going to flip over a demand card and it tells you which types of cards you can play from your hand, also what rewards you can get.
In a Steam Park kind of way, the first player to select their 4 cards takes the 1st player token. Each round has a random card that restricts, or adds to, what you can do.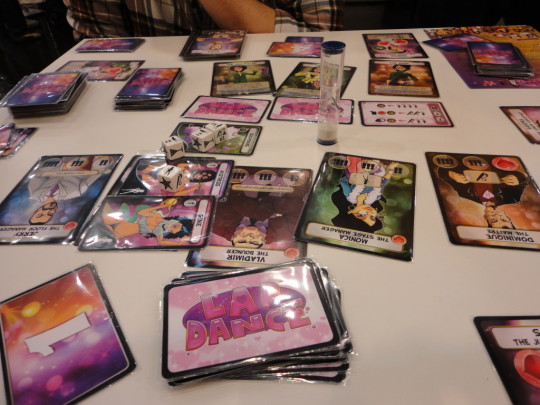 So then, in order you take all the dice cards have given you plus 2 and roll them. You have to keep at least one but you can re-roll as many as you like until you run out.
Then you work out which rewards you get, take them and pass the dice.
There are some people who let you put a token on them to get a bonus action which is the reason to go first, these spaces are limited.
Also some clients give you a weird task such as making a dramatic pose after rolling the dice or only speaking as if you have an ear piece.
It could be good fun, but choosing the dice and working out which rewards you earn takes FOREVER! If you go first in one round and 4th the next you can spend 20+ minutes just selecting 4 cards in your hand. other peoples turns aren't that interesting either.
Might work for other groups though.