Kickstarter – Tiny Epic Galaxies
An Intergalactic Conquest game.
Part of the Tiny Epic Series.
Publisher – Gamelyn games
Designer – Scott Almes
Minimum Pledge to get Game – $28 (£19)
Best Value Pledge – $36 (£24)
Kickstarter Link – Tiny Epic Galaxies

In Tiny Epic Galaxies, each player controls their very own galaxy! From which they will develop their empire by managing resources, expanding their fleet, colonizing planets, and exploiting their enemies' position.

The game runs on a clever dice combo-ing mechanic; players roll for their actions and choose the order in which to take them. This can lead to big "pay-off" turns, especially when combo-ed with planet abilities!

Throughout the game, players spend resources to upgrade their empires, re-roll unwanted dice, and even follow the actions of other players' dice!

Players will accumulate power (victory points) based on the level of their empire, as well as for successfully colonizing planets. When a player has reached a power of 21 or higher, the end of the game is triggered.
Having backed Tiny Epic Kingdoms and Tiny Epic Defenders I was probably always going to back this.
Unlike its fantasy themed predecessors, this one is set in space and features dice which haven't been in the previous games.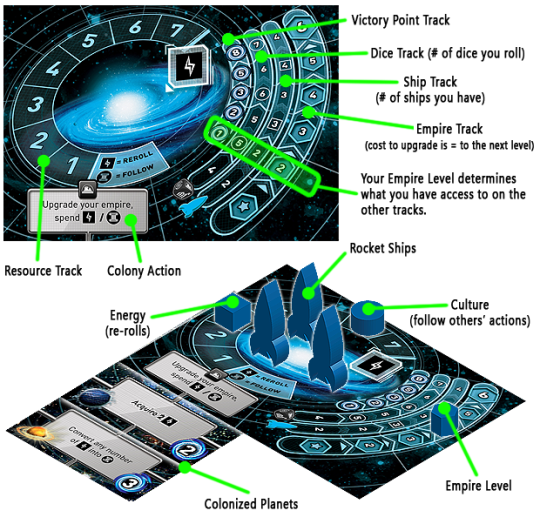 After a brief look at the rules and watching a game play video it does appear quite similar to Tiny Epic Kingdoms
So what makes this one different to the other?
Space Theme
Dice
Hidden Objectives
I like the idea of having a collection of similar games on the shelf that are quick yet strategic so right now I have no reason not to back it.
Did I pledge?
Yes of course. But I hope I enjoy the games in this series enough to make it worthwhile 🙂