Kickstarter – Tiny Epic Defenders
A cooperative 'Defend the Realm' game.
Part of the 'Tiny Epic' series.
Publisher – Gamelyn Games
Designer – Scott Almes
Minimum Pledge to get Game – $16 ($28 UK)
Best Value Pledge – $24 ($36 UK)
Kickstarter Link – Tiny Epic Defenders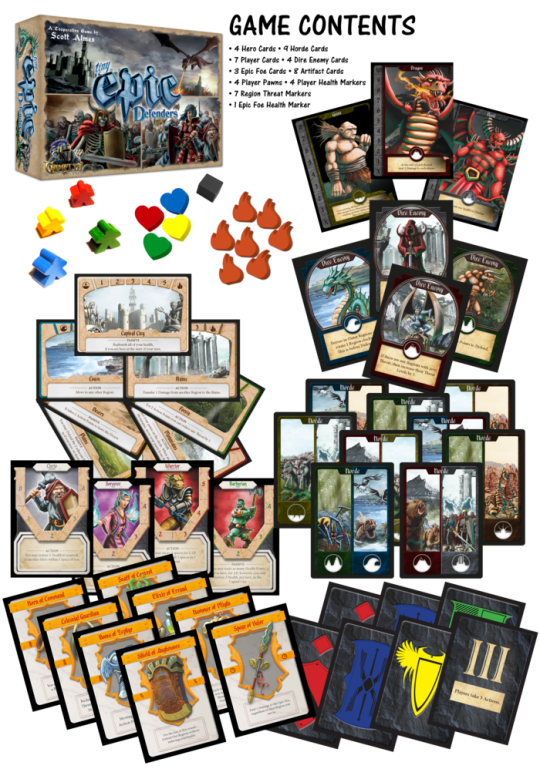 After the Great War (Tiny Epic Kingdoms), many of the factions, shattered and defeated, looked for something to cling to. One final hope before the last of their race would flow like the river into the ocean of history, gone and forgotten. It was the sages of the Order of Gamelyn who answered their prayers. They provided a new perspective on unity, and a way of life that would welcome peaceful members of any faction. A utopia for all. With very few options and a will to survive, this world alliance became an inevitable truth in the eyes of many of the factions' leaders. Even factions who hated one another had nothing left but each other. Under the guidance of the Order of Gamelyn, a Capital City was chosen and factions from all over the world came to call this city their new home. At last, the world was at peace… but not for long. A great storm is coming and in the darkness of the mist, there be demons.
While I'm not a fan of these multi-player solo games, Tiny Epic Defenders puts it all in a nice neat package with the look and components you expect from Gamelyn Games. It plays in about 30 minutes and sounds challenging from what I'm hearing form the previews.
I like the turn order cards, I thinkk that will add alot. Also the player and location powers will add more that a Forbidden Desert and Pandemic type of game.
Did I pledge?
Yes, I think it looks fun and a good alternate to other multi-player games around.
Also, having backed Tiny Epic Kingdoms I think they'll look nice next to each other on the shelf.