Game Rewind – June 2014
A look back at games I played for the first time in June 2014.
Just two.
Might and Magic Heroes
A nice looking game that sadly lacked enough to keep me interested in really wanting to play it again. But, it wasn't bad…
It had nice touches and as I said it looked great.
Result: Maybe one more try with a stronger faction.
Marvel Dice Masters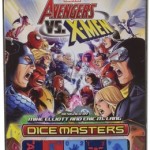 A very nice collectible game. It's very easy to get in to, especially if you've played Quarriors. There are a couple of REALLY powerful cards and of course they are Super Rare cards and cost a fortune.
A game I would LOVE if those few cards weren't the focus of the entire game. Tournament play mostly involves using them, or being beaten by them…
Result: Love it for casual and tournament play. I still collect and play this.