UK Games Expo 2015 – Crokinole
Flicking disks and getting frustrated…
Must… Not… Buy…
Players take turns flicking disks on a board, trying to score points by attaining central regions. The main stipulation being that contact with the other teams' pieces must be made in order for the disk to remain on the board afterwards. Although the game uses quite a bit of skill to flick the disks, there's a very significant strategy element to the game. There are many different variants and rules, as this game is very old and has had many different incarnations over the years.
So yeah, flick disks while hitting an opponents disk and keeping your disk as close to the middle as possible.
Sounds easy and dull which is why I didn't bother with it all this time. But, now I've had the chance to play it resisting picking up my own board is going to be very hard.
They had them for sale at the Expo and if I didn't have to take a busy bus back I would have no doubt I'd have one of these boards now.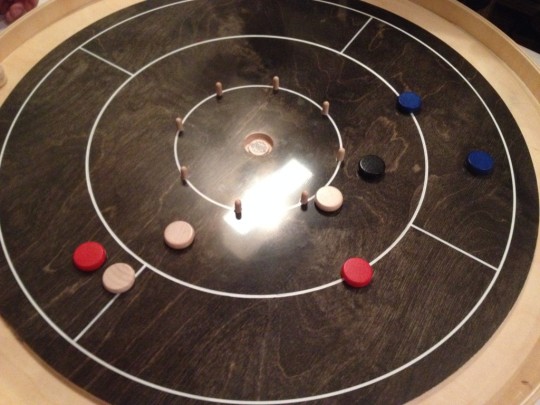 You have to flick from the outside line in your own quarter of the board. you MUST hit one of your opponents disks or take your disk off the table. After hitting an opponents disk, you want to try and move it as far away from the middle as possible while leaving your disk as close to the middle as possible.
If you get it in the centre hole you get points too. After everyone has played their disks, you get points for each of your disks on the board depending which zone it's in, most points wins.
It's really nice and the way the disks glide across the board is quite impressive. It's not quite the never ending glide effect of Air Hockey but it moves further than you would thing wood on wood would…. Wood.
The coating on the board makes the counter glide just enough.
We played on a 'mini' 62cm board with smaller disks and I'd like to play on the 78cm board at some point.
A very fun game, I can't see me never owning this in my life.