Top 10 Games for Essen 2014
Not long until Essen and I've been following the releases closely on Board Game Geek.
But, which 10 am I looking forward to trying out the most?
I'm not including expansions in this list so you won't see Terra Mystica Fire & Ice and 7 Wonders Babel despite pre-ordering both. There's also the expansion to Bruge which I will pick up at some point but probably not at Essen.
Also not going to list One Night Ultimate Werewolf Daybreak as I've backed the Kickstarter and it's not 'new' really but I hope to get at least one game of it in while I'm there.
Also not including the 9 games from Japan, Korea, Thailand and China that I have pre-ordered for no particular reason than they should be on their own list… In fact, I can do that now 🙂
9 – Villannex – Cool looking resource collecting game from Japon Brand
8 – Heroes of the Three Kingdoms – Nice looking card game filler from Korea
7 – League of Hackers – A 'Race for the Galaxy' style hacking themed game
6 – Click & Crack – Highly rated Penguin themed game from Japan
5 – Boom: Runaway Bomb – Crazy hand management game with a bizarre theme
4 – Blood of the Werewolf – Werewolf themed deduction game where you face your role card outwards
3 – Secret Moon – Another Werewolf style game buy by Love Letters Seiji Kanai.
2 – Jungle Rumble – A San Juan style resource management game with Kitty Cat workers!
1 – Dungeon Guilds – A light take-that Dungeon game I've been after for almost a year
Anyway, let's get on with looking at real games.
10 – Castles of Mad King Ludwig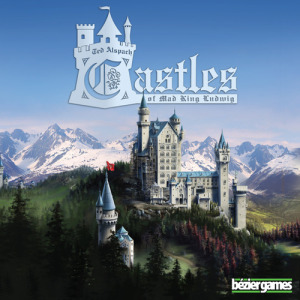 Initially pre-ordered this to make sure I didn't miss out but have since cancelled.
The system is based on one of my favourite game of all time, Suburbia. BUT, after watching a few reviews it seems to play similar to but a lot slower than Suburbia, it just looks prettier.
Hoping to get a play of it in but I won't be buying this… probably.
9 – Hyperborea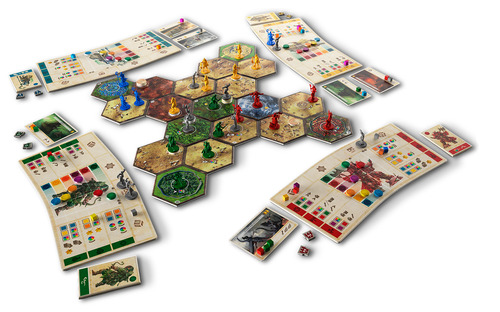 Really want to play this one. I'm still on the look out for a game that has a Kemet feel to it and this is the closest I've seen so far.
This 'bag building' thing with action cubes and the whole action system seems great. The minis look nice, the scoring and combat is cool too.
At 60 Euro I won't be buying this but really looking forward to playing it.
8 – AquaSphere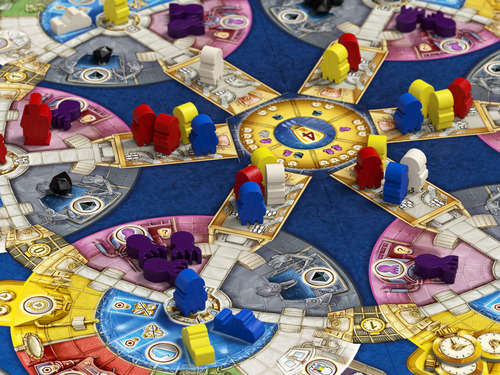 Nice theme, pretty bits and cool looking game play. I would have backed this on Kickstarter had they shipped outside the US.
After seeing Rahdo do a run-through I can see this would be a fun game to play. Theme is important to me as it needs to be interesting to get (trick) some people in one of my gaming groups to play a Euro. Having recently played and loved Concordia, I know my group wouldn't be as open to a 'trading in the Mediterranean' theme as they would robots and monsters underwater.
40 Euro is a good price, it could be my big purchase of Essen but we'll see.
7 – Mythotopia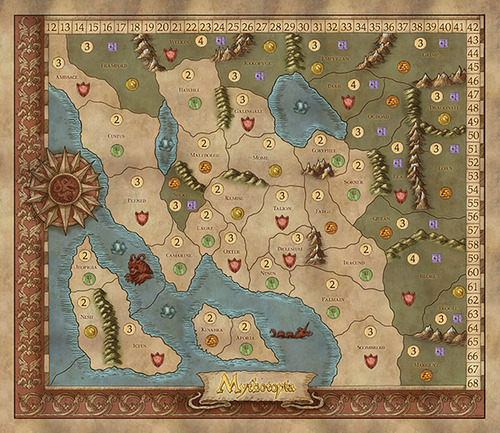 I like the IDEA of a Few Acres of Snow but 2 players? I'll never get to play it.
Apparently this is the same system but with 4 players. More interesting is the fact that the scoring will change each game meaning that you'll need to play differently.
There is a 45 Euro special edition available in limited qualities but it is already available to pre-order from GamesLore for £40. (About £5 + postage more)
I want to play this before I even consider buying it though.
6 -Kingsport Festival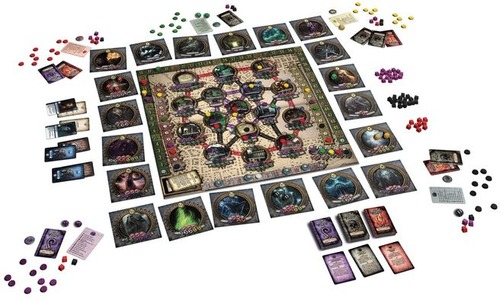 I like Kingsburg and adding a theme to it other than 'something' must be a good thing. It looks really cool too with it's Cthulu theme and it's Evil, Death and Destruction resource types, yay!
As it is Cthulu there is a Sanity system so those that constantly roll high (not me) will lose Sanity points quicker than the rest and may end up losing points at the end.
There are scenario cards which change set-up and end game scoring too which adds to the re-playability. All that and you can cast spells…
One I want to play and will probably buy if I like it, but not at Essen… 50 Euro is too much for a holiday purchase 🙂
5 – Samurai Spirit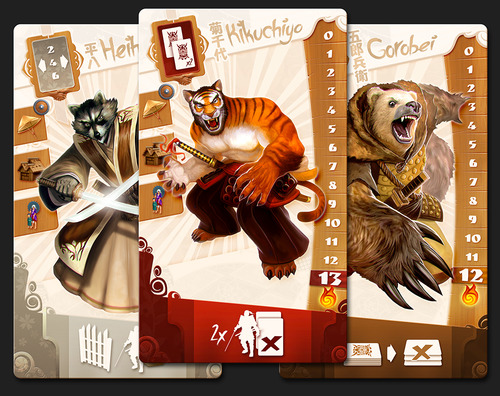 The first of two games I have already bought. The pre-order comes with an extra boss card so I picked this up for that reason. That and it was only £15 and has had great reviews.
A lovely looking co-op with a nice theme, great art and it's Antoine Bauza so it should be good. I say "should" because I'm currently 3 likes vs 3 dislikes with his games. But the like column includes 7 Wonders which is one of my all time favourites.
4 – Subdivision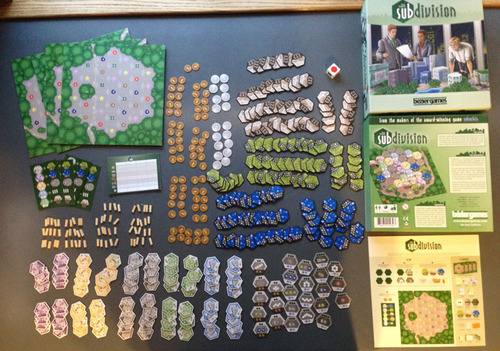 Looks like Suburbia but plays very differently unlike Castles of Mad King Ludwig which looks different but essentially plays the same.
This seems more abstract and more like a puzzle game than either of them so I'm looking forward to finding out just how different it is.
50 Euro puts me off buying it there but really want to play it.
3 – Nations: The Dice Game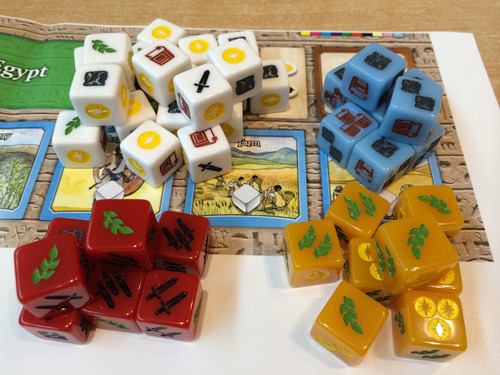 I liked Nations but I don't like its play time and price… Also not sure about re-playability.
The dice game is cheaper, quicker and as far as I can tell, very similar.
For 35 Euro it may come back home with me but we'll see 🙂
2 – King of New York
The second and final game I have already pre-ordered for Essen pick up.
I love King of Tokyo so this was a must buy. You get a couple of promos with it and a chance to play with Richard Garfield which would be awesome 🙂
This game is similar to the original but different enough that it's worth owning both. Plus there is a character called 'Rob' which could only be beat by having a 'Jester' 🙂 So long Cyber Bunny? maybe…
1 – Lords of Xidit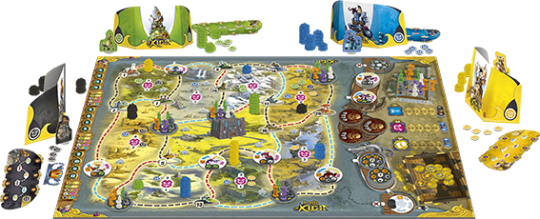 Looks pretty, is based on a highly reviewed game (Himalaya) and looks fun. When I mentioned Aquasphere I said how theme will help me get Euros played in my group and this one certainly has everything I need in a theme.
Also, it's very different from any game I own so it has that going for it too.
Although it's the game I want to play most at Essen, with a 50 Euro price tag I very much doubt it will be coming home with me.
Update: I actually won't be bringing this home. Despite it being 50 Euro at Essen, it's only £20 here so I've pre-ordered it and I'll get it when I get home 🙂