Jesta ThaRogue in Boss Monster
Yet another Kickstarter campaign I backed is the great looking Boss Monster from Brotherwise Games
"Inspired by classic video games, Boss Monster challenges you to become a villain, build a dungeon, lure adventurers, and destroy them!"
So you build a dungeon that will resemble a 16 bit side scrolling game and you attract a 'Hero' to your dungeon. The Hero then runs through your Dungeon one room at a time. If you kill them you gain their souls, which is how you win. If not, they will wound you.
I'm really not doing it justice, watch this vid.
I already mentioned that I have pledged for Pixel Lincoln and that I have a Jesta ThaRogue card for Pixel Lincoln. That card is a promo, a one off…
So not only is Pixel Lincoln himself a Kickstarter exclusive promo in Boss Monster, I was able to grab the last spot on the Thief Hero pledge level to have a copy of a card IN EVERY COPY OF THE GAME!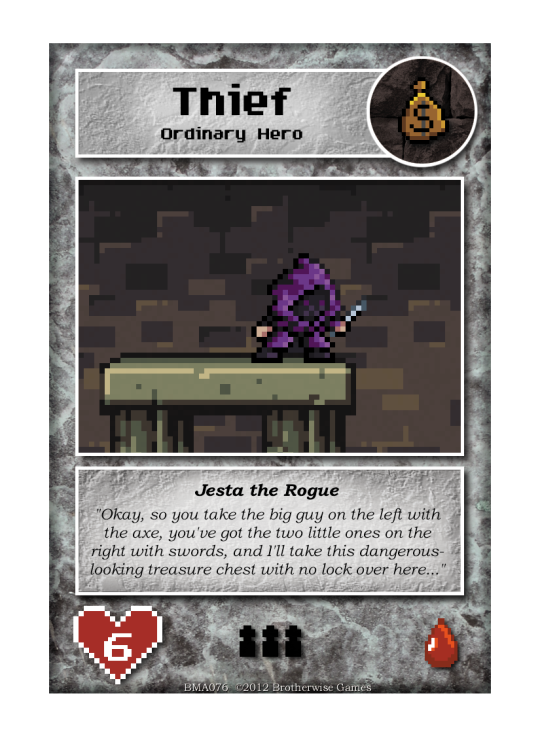 So if you pick up a copy of Boss Monster there will be a copy of Jesta 'The' Rogue in it, for you to kill.
I'm quite excited that I get to have this card AND that it's playable AND that every one gets to play with it. I'm also scattered through the rule book a few times 🙂

I believe the current estimated time of delivery is May but this can change. I'll post an update when I get to play it.
Check out the Board Game Geek page for Boss Monster for more information.
Jesta