Gameday First Play – Tales of the Arabian Nights
Oh, I come from a land, from a faraway place where the caravan camels roam…
Then I move around the World, very little happens, I win and we all go home!
In Tales of the Arabian Nights, you are the hero or heroine in a story of adventure and wonder just like those told by Scheherazade to her spellbound sultan! You will travel the land seeking your own destiny and fortune. You will learn stories and gain wisdom to share with others. Will you be the first to fulfill your destiny? The next Tale is yours to tell! There is, of course, a winner in Tales of the Arabian Nights, but the point of the game is less to see who wins and more to enjoy the unfolding and telling of a great story!
Like the blurb says the result doesn't matter, it's experiencing the stories being told as the game unfolds which is the best bit. I had a lot of encounters where nothing happened… In a lot of games this is disappointing as it's a 'boring' turn but you get to experience each players turn in the same way as your own… let's look at a turn.
You move around the board… it's point to point movement which is limited by how rich you are… and when you land on a space you draw a card… then it all kicks off.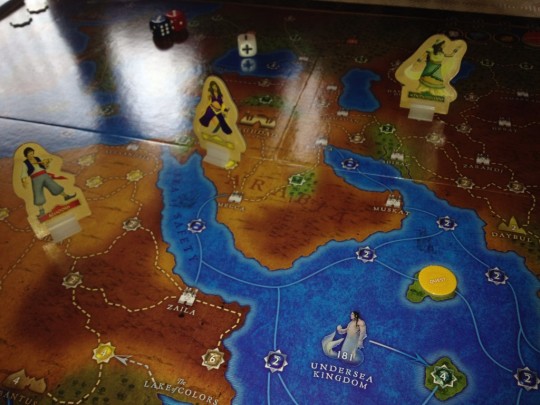 We played the game 3 players, one player was taking the turn, one player had the Story Book and another had a Matrix thingy… The active player draws an Event card and reads out what they are encountering which can be anything from a Hag to a Dragon. They then read out the number on the card.
Over to the guy with the book, they will look up that number in a book and it will give a list of words…
Back to the active player who will (usually) roll 2 D6 and add up the numbers…
Back to Book guy, he will read out what they rolled that matches that number and it's letter to say which Matrix it's on…
Whoever has the Matrix list reads out a list of actions the active player can choose…
The active player chooses one and rolls and +/- dice…
The Matrix guy looks up the chosen action, cross references it with the event card drawn, adds or subtracts 1 (depending what was rolled on the +/- dice) and gives that number to the storyteller…
The Storyteller finds that number in the book and reads the story…
Now, that seems complicated but after 2-3 turns I got the hang of it, the other players had already played and this whole process was taking around 10 seconds per turn, depending on how quickly you can find the page! 🙂 Back to the turn…
In the book the story will have a couple of outcomes… one if you have a particular skill or item, one if you don't…
Generally if you have that skill it's better for you, but it's not always good, they're generally bad.
Anyway, I'm getting bogged down in rules and it's not about that.
It's about Aladdin getting his arm broken on turn one.
It's about Scheherazade never having the Brass Trumpet during her encounters.
It's about Aladdin getting Married, having a kid and becoming the Vizier.
It's about Scheherazade being accursed, and accursed again.
It's also about me, having nothing bad happen to be for the entire game… Which I am told will never happen again.
This game is exactly what I hoped it would be, and more. I enjoyed the stories and wondering exactly how each player was going to get messed up on their turn.
But there is a pretty good game behind it. I didn't get into a lot of it here like Skills, City Cards, how to win etc 'cause it's just not important…
A very good game, one that you only want to play 2-3 times a year to keep it fresh but one I'm really looking forward to playing again.