Fave 10 Games of 2014
It's 2015 so it's time to list my top 10 games that were published in 2014. (According to Board Game Geek)
Here are the rules…
From the Top 10 of 2013 I have only kept 2 of them, One Night Ultimate Werewolf and Steam Park. Will this year be better? Hopefully! Although I have already sold two games on the list…
Anyway, Here we go…
10 – Kaosball: The Fantasy Sport of Total Domination
A sports themed, card driven, miniatures game with a lot of re playability due to the number of teams, upgrades and ringers available.
It WOULD be higher but I've only played it with 4 players and the board can clog up a bit.
I have a feeling with 2 (or maybe 3) players the game is more open and free flowing like Blood Bowl but I still enjoy playing it tactically trying to free up space for my players. But still, a game I enjoy a lot.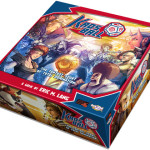 9 – Mythotopia
First of 2 of the games I picked up at Essen to make it into my top 10.
This is a war game that using a pseudo-deck building mechanic to help you craft a deck to perform your actions on a board.
Just like Kaosball, the random set-up adds a lot to the game with each players starting locations and available cards to buy different each game. Also, 4 of the 7 scoring cards not only change the way players can score but can effect the board too.
A very good game that I'd like to play quite often.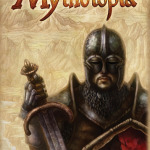 8 – Dodekka
A simple card game were you either take a card or take a calculated risk to be forced to take cards… and having too many cards isn't a good thing!
'Simple to play yet requires some thought'  seems to be the theme of the list this year and this game is just that.
Take or flip… That's it. Repeat until the game ends.
The fun comes from the tension you can see in other people as they flip hoping not to bust out and take a handful or rubbish.
One I like playing a lot an I haven't seen anyone who hasn't had fun playing it.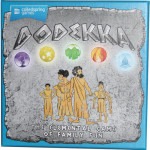 7 – Samurai Spirit
My second Essen purchase on the list.
A co-op card game for 1-7 players where you are defending a Village from invading forces, Severn Samurai style.
A fantastic and very simple co-op game. You only need to take 1 action out of a choice of 2 to 3 choices per turn but it feels like a lot more than that.
This has a great balance of being easy to play but being very challenging to win. A game I actually like to play Solo.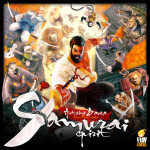 6 – Splendor
A game of collecting gems and trading them in for cards, my favourite of the 2014 Spiel Des Jahres nominees ahead of Camel Up and Concept.
A very simple game that is very deep with a few routes to victory and also great components and art too.
I have sold my copy but there are so many around the different groups I play in that I won't miss it.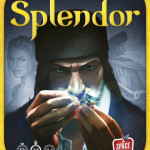 5 – Pina Pirata
A VERY fun simple Uno style game where you play animal pirates to the pile following the increasing number of rules that are added each round which causes a lot of laughs.
It CAN create infinite loops where you're trying to empty your hand but the rules keep bringing cards back into the game but you can avoid this without taking too much away from the game.
Sadly, my friends had a bad experience of the game with another friends copy and were reluctant to play it with me so I got rid of my copy.
Probably the best game I will never play again.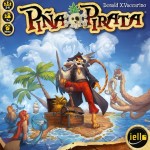 4 – AbluXXen
Play sets of cards to steal from your opponents…
A very simple game that is a lot of fun to play. It's very easy to teach but I've played it several times and I feel there is a lot of strategy to explore.
The recent mini-expansion 'fixes' the only issue I had with the game where you could win by just emptying your hand as quick as possible.
One I enjoy playing quite a bit.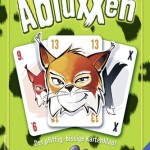 3 – Dead of Winter
A co-op survival game based in a Zombie Apocalypse that MAY have a traitor.
I like story driven games, I like co-op, I like traitors and I like a Zombie Apocalypse… So this one should work well.
This is a very challenging game where you not only have to make mechanical decisions to help you win the game but moral ones too. Letting a group of people die so you don't have to feed them, for example.
The Crossroad mechanic is great and keeps 2 players in the game on a turn and the possibility of a betrayer mostly removes the Alpha gamer.
I've played it a few times and I'm yet to be on the winning side… but I do really enjoy playing it.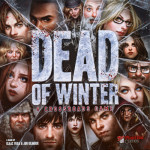 2 – Lost Legacy
Being a fan of Love Letter it wasn't obvious that adding something extra to the game would make it any better. But very quickly after playing it 2 player I thought it was awful… Love Letter is great with just 2.
But, after playing The Starship with 4 I really got to see how good this game is and it's replaced Love letter for me, with 3+ players anyway.
Flying Garden has added something extra too with it feeling VERY different to The Starship while again, keeping to that basic Love Letter game play.
Adding two sets together is good… not great though. While being able to accommodate 6 players is great, the game slows down a bit and it loses something I think.
But still, fantastic game for 3-4 players.
1 – Five Tribes
A Mancala game based in the 1001 Nights universe with fantastic art and game play.
Easily my favourite game of the year.
I've played it a few times now and I love it. With the way the game is set-up differently each time it varies enough that it feels different but still keeps the same core game play that I really like.
You can win by specialising in any of the various ways of scoring or you can pick up points here and there, it's all very well balanced.
I have yet to have anyone play this and not enjoy it, even those that usually don't enjoy this kind of game.