Essen 2015 – Fog of Love
Roleplay a a couple of a year of their relationship.
Try not to fall out!
For starters, great name for a game and a lot of people were talking about it. 🙂
In this you each play one half of a couple. You have a rack where you add mini trait cards to give your character a background then you describe yourself a bit so your 'other half' knows more about you… This is key to the rest of the game.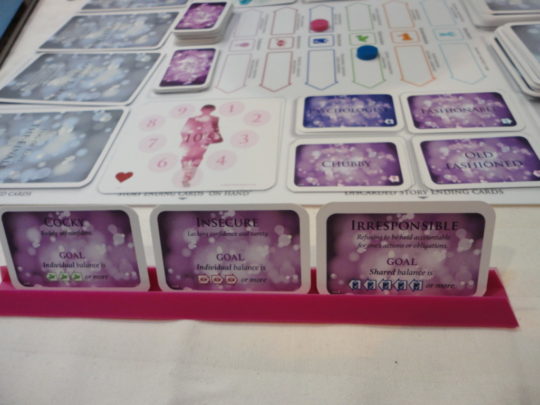 The main part of the game is to move stats on a bar to match the traits you have picked…
To do this, you'll be playing story cards and letting the other player pick an option leading to a change in these stats, or simultaneously voting on choice and resolving depending if you picked the same one or not.
This is where the character development from earlier comes into play. You're not picking what the other player might do, but what the other players character might do.
You also have a personal stat (can't remember what it is) and you need to keep that up too… So like real life, you may need to sacrifice something personal to help the relationship. Nice touch.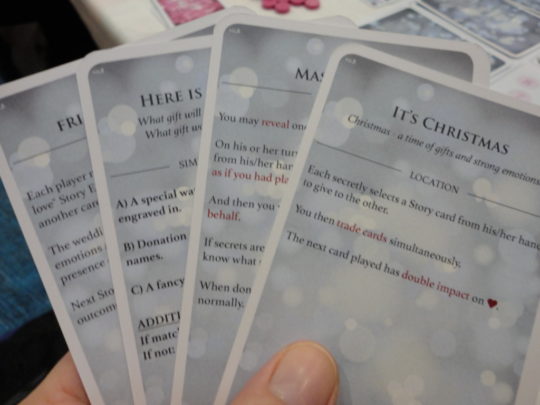 It's hard to describe this game due to it being as much an experience as a game but it was a lot of fun. You make choices that can mean selecting cards from future decks and putting them on top meaning you will effect your future, things like that make this game really nice.
Now, this is clearly not going to be for everyone  and for me it's a 2 player game so it'll be tough to justify spending money on it…
But it's being Kickstarted on Valentines Day 2016 and if it sounds interesting you really should check it out.