Essen 2014 – Six MaKING
Build Chess Figures!
My head hurts…
This is an odd one. You place a piece on the board, anywhere. Taking turns to do so.
A piece on its own moves like a King in chess and takes pieces in this way…. You can only move a piece if you can take another piece.
In this game when you take a piece you put it on top of the stack. Taking a Pawn with another Pawn makes it a Rook and it moves as such. Take a Pawn with that Rook and it's now a Knight. A stack of 4 is a Bishop, 5 is a Queen and 6 is a King and you win.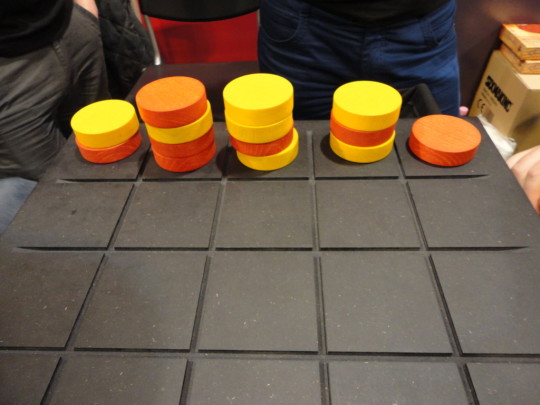 The colour on top of the stack determines who controls the piece. If that isn't mind bending enough you can split a stack. Say you have a Bishop, a stack of 4… You can pick up say, 2 from that stack and move them diagonally leaving a Rook behind and creating a new stack one the stack you have just taken.
This is a very well designed game and a complete brain burner.