Essen 2013 Glass Road
An Uwe Rosenburg game.
You get point by building buildings onto your tableau using resources you have collected.
You collect resources by choosing 1 of 5 cards you select from a deck if 15. You reveal the card and take the two actions printed on it. If a player also has this card in their hand, you both take 1 action each.
I loved this part.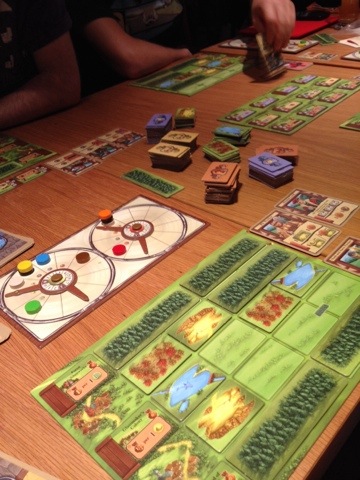 Resources are hard to explain. You have 2 dials on tracks with a token to represent each resource.
When you spend or gain a resource you move the token around the dial.
The dial always moves clockwise across empty spaces so at least 1 resource in each disk will be at 0.
The flip side to this is on each dial on the other side if the main track is another track that counts a rare resource in reverse. So as the wheel reduces the number of common resources as it moves, you gain Glass and Brick.
I really enjoyed this.