Kickstarter – The Agents
This is a good sounding tactical game.
It's set in a world of spies, sabotage, secrecy and subterfuge.
Publisher – Self Published
Designer – Saar Shai
Minimum Pledge to get Game – $18 ($23 to UK)
Best Value Pledge – $36 ($41 to UK)
Kickstarter Link – The Agents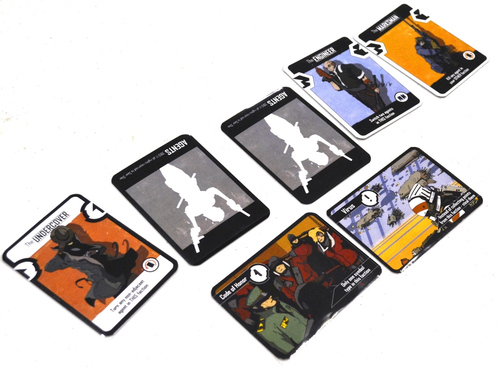 The Agents is a strategic card game that introduces a unique double-edged card mechanism into the undercover world of covert operations, subterfuge, secrecy and sabotage. Players must join their Agents into Factions, assign Missions and take their opponents down, to gather intel and win the most points.

Each Agent card features a "command" on one end of the card and "points" on the other end. The direction in which you place the card determines from which asset you benefit. If you choose to perform the command, one of your opponents scores the points; if you keep the points for yourself, an opponent gets to perform the command. With 25 different Agents, each with its own unique ability, Agents can be turned, killed, extracted and swapped – making the game ever flexible, variable, unpredictable and a test of forward planning and quick thinking. As you learn about each Agent's special abilities, discover how Agents work together or against each other, and weigh up the advantages of collecting points for yourself versus using the commands to further your goals and sabotage your opponent's strategies, the game becomes increasingly complex, dynamic and challenging.

Missions, played alongside Factions of Agents, provide interesting, strategic conditions which, if fulfilled, score you big points – but if you race ahead, you'll also become a target for attack. The better you're doing, the more under fire you'll be.
Video from Crits Happen
Each player controls a faction made up of Agents that have been dismissed from a failed Agency.
Each player gets 3 random Agents, a Mission card and 5 points. Points are scored on cards which is interesting but may not be in the final version. The points cards are double sided to show different values which is a nice touch.
You create Factions by placing your Agents next to your other Agents in play. Agents have an upward facing arrow and a command. If the command is facing you, you use it, if the arrow if facing you, you score points. Of course, if the command is facing you, the arrow is facing your opponent and they score points from YOUR Agent!
I LOVE this.
The commands on the Agents allow you to move and rotate cards, as well as other things making the game quite tactical.
There are also one shot Agents that you play and discard. They have Commands and Points (not arrows) and if you give yourself one of those, you're give the opponent the other.
LOT'S to think about!
There are a few options to take on your turn with your 2 actions.
Play an Agent from your hand
Active a Command of an Agent card facing you
Buy an Agent or Mission
You buy Agents using your points! MORE things to consider.
Missions give you even more to think about. You can play them onto your own Faction, or your opponents and score points in various ways is certain goals are met.
One big problem you may have is that you 'share' Factions with your player on your left and right. This gives a nice/horrible feeling that you can effect your side of the table, but not the other!
Did I pledge?
Yes. This is a fun, "Screw you! Ha ha! Oh crap!" game that looks great from 2 all the way to 5 players.
$41 including postage, 4 expansions and Kickstarter exclusives is a good deal.