GF Plays – Mythotopia
A Few Acres of Snow interested me but was only two players…
So I was pleased when I heard they were making the system into a 4 player game!
Mythotopia is a deck-building game set in a medieval fantasy world that draws on the mechanisms found in A Few Acres of Snow with players customizing their personal card decks by drafting cards and expanding into provinces.
I usually play a game once and give my little thoughts on it. But as the first time I played this was in a 2 player game I wanted to wait a bit before having my say.
I'm also happy I got the limited Edition from Essen with wooden bits instead of cardboard chits.
This game billed as a 'Deck Builder' but it feel more like a hand management style game to me. The mechanics are deck building-esque but it feel more like Heroes of Metro City than a Dominion type game.
The goal is to score the most points by building Roads, Cities and Castles or taking over Provinces which you can do in every game.
One of the many cool things about the game is that you randomise 4 victory point cards to make each  game that little bit different. These vary widely from just putting boats in the water to defeating Dragons…
Playing the game is quite involved… I'm not going to cover every rule as usual but I'll just go through the main bits.
Everyone starts off with some random Provinces and those Province cards go into your starting deck and you put Towns on them on the board to get the game rolling.
You draw 5 cards from your deck and you get 2 actions from a list of 15 or so things you can do.
One of the main things you'll be doing is invading Provinces and adding Armies.
To invade you need a decent hand of cards. Firstly you need a Province you control to Invade from, then you need a card with a Food icon to feed your army, then you need cards with the Army icon…
You then stack up Army tokens into the Province you invaded… but you don't win yet.
At the start of your turn you can, as your first action, End a War. If you're involved in a war and someone will win it, you can end it (as the winner or loser). The winner takes the Province card and puts a Town on it. If a player controlled the Province you take the Province card form them and gain 3 points, they lose 3.
Once per turn you can pay a gold to buy an Improvement card. This cards have great effects and again are random each game. There are 16 available to buy from a pretty big stack of cards so this adds further variety.
Another cool thing abut the game is the Reserve.
You have a reserve where you can put cards from your hand to use later. This is important for building a hand for future turns like saving Brick for building or Army for invading. Some cards give you a benefit only while it's in your Reserve like the Scribe card in the image above.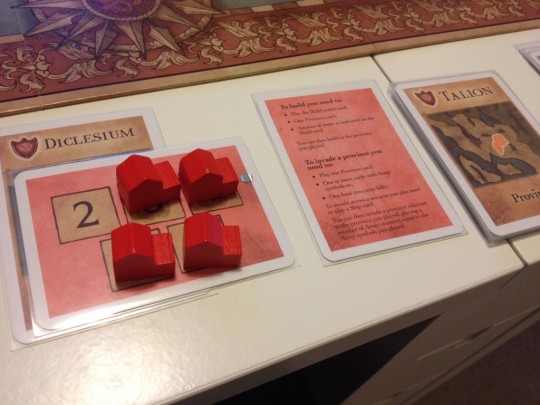 There is plenty more to this game but it's essentially a hand management/deck building, area control game with a random set-up and victory point conditions.
A very good game.