Game Rewind – October 2014
A look back at games I played for the first time in October 2014.
October means Essen which means a busy month!
Let's get on with 47 one-liners!
Pirate Dice: Voyage on the Rolling Seas
Average Pirate themed game of use dice to program movement. Very random but quite fun.
Result: I would play again.
The Walking Dead Board Game
Awful, random and very basic.
Result: No thank you
Twilight Struggle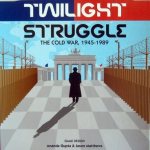 Really good two player card game based in the Cold War. Lot's going on but it's really quite thematic and fun.
Result: I would play this again.
Tales of the Arabian Nights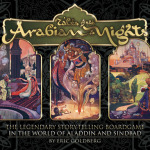 A very random (in a good way) adventure game that tells a very good story over the 90 or so minutes you play it.
Result: I'd play it again
Dominant Species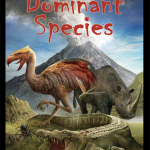 Played this Ice Age themed, area control game 3 times now and enjoyed it each time, enough to buy it.
Result: I own it so I'll play it more 🙂
Tanto Cuore: Oktoberfest Edition
Basic deck-building game, not as good as the original.
Result: Once was enough.
One Night Ultimate Werewolf: Daybreak
Adds to the original and gives it life again.
Result: In my collection.
Hick Hack in Gackelwack
A fun and random game of chickens tying to eat feed and foxes trying to eat chickens. It's Pickomino mixed with Om Nom Nom.
Result: Played it quite a bit but I wouldn't say no again.
Kobayakawa
A poker style game with nice looking cards but a dodgy round 7 that kills the game for me.
Result: Sold it, wouldn't play again.
Dungeon Guilds
A nice and cute game of trying to clear out a dungeon that requires the right players to play properly.
Result: With the right players, I'll play it again.
Villannex
A cute and tiny yet very random Japanese game where you play 2 cards and gamble on what resources will be worth points.
Result: Nice idea, but not enough of a game for me.
Click & Crack
A very nice penguin programming game that got old after 10 plays.
Result: I've played it enough.
Boom: Runaway
A push your luck kind of game where you're trying to help bombs escape from a bomb factory to paradise.
Result: Nice, but may get replaced with a similar style game when one comes along.
Dark Tales
A pretty Fairy Tale themed game that had no effect on me on the 3-4 times I've played it.
Result: I can leave this one.
Heroes of the Three Kingdoms
A very simple Feudal Japan themed card game that's quite unique and loved by everyone who plays it.
Result: Still in my collection
Cypher
A Love Letter style hacking themed game that couldn't do what Love Letter does so well.
Result: I'll play Love Letter
World of Tanks: Rush
A Tank themed deck builder that is actually quite fun.
Result: I wouldn't mind giving this another go.
Concept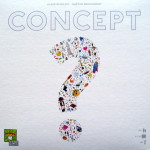 A VERY fun party game where you place cubes on icons to help players guess your secret word or phrase.
Result: A game I love to play!
Cappuccino
An abstract game of stacking cups and covering up your opponents in order to have the most at the end of the game.
Result: I would play again, but other abstracts are available.
Dino Race
A cute game of using cards to help dinosaurs escape from a volcano.
Result: Fun, for kids.
Lap Dance
Boring and random dice game.
Result: Don't play this.
Serpent's Tongue
Haven't played this cool looking, spell casting game properly but I don't feel that I want to.
Result: Skip it.
Samurai Spirit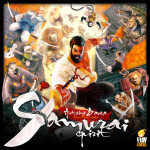 Fantastic co-op game where you play samurai defending a village from invaders.
Result: Currently in my top 10 of all time.
King of New York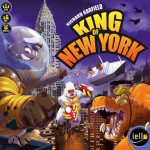 A great addition to King of Tokyo which was already a fantastic game.
Result: Still in my collection, still played.
Patronize
Interesting trick taking game with card abilities and cubes.
Result: Swamped by other small games in my collection
Blood of the Werewolf
Hidden role game where you play with your role facing away from you. A bit too much complexity.
Result: Better hidden role Werewolf games available.
Illegal
A pretty cool game of trading cards to gain ets without giving away what you're trading for.
Result: I might pick this one up one day, but requires a moderator.
Empire Engine
Interesting action selection game where you rotate cards to gain cubes.
Result: Another swamped by other small games in my collection.
League of Hackers
Action selection competitive hacking game that was pretty average.
Result: Not for me.
Wazabi
Pretty fun and random dice/card game which was fun for plays.
Result: Lost it's appeal quickly.
Fatal Rendez Vous
Dancing, secretly drinking and handcuffs… should be fun! and it is.
Result: Good, but not sure when I'd get to play it.
Monster Hero Acadamy
Forgettable drafting game I can barely remember
Result: A no from me.
Pinocchio: True or False
Decent party game where you tell a story about a given category and players decide if you're lying or not. Then there's this random dexterity element.
Result: Would be good as an ice breaker.
Pick-a-Polar Ber
Speed game of accuracy with cute pictures.
Result: A lot of fun, would be good for kids.
Weykick
Very fun large wooden table "Foosball' type games. Big, expensive but GREAT. Would suit a home bar or play room perfectly.
Result: Excellent for the right sized house.
Bucket King 3D
Use cards to beat your opponents and force them to knock down their tower of plastic buckets.
Result: Good game that suffered from being over played.
Chosŏn
Nice little card game with great art and nice game play.
Result: Pretty fun
Wok Star
Tedious real time game that's too frantic for its own good
Result: Pass
Eat Me if you Can
Fun game or walking a Wolf around houses making players sweat.
Result: One for the Poker players.
Dragon Slayer
Very random dice game. Similar to but not as fun as Dungeon Roll.
Result: Pass
Six MaKING
Fantastic abstract game that Chess players may like.
Result: If I played 2 player games, I'd recommended this.
Primiera
Great little card game based on a traditional Italian pub game.
Result: Still own this one.
Camel Up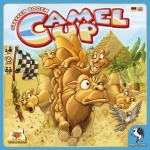 Great Camel racing, betting game. Base game is a little too short and expansion makes it too long.
Result: Good for families and  competitive groups.
Lords of Xidit
Program movement game that looks 100 times better than it plays.
Result: Once was enough.
Machi Koro
Roll a die, buy stuff maybe…
Result: Boring
Pit
Fun real time trading game that gets CRAZY!
Result: Good on occasion.
Survive: Escape from Atlantis
Average game that punishes the leader indefinitely.
Result: OK game if you don't score points.