Game Rewind – November 2013
Post Essen 2013 was a quiet month.
Not a lot to get through here.
Wooolf!!
It sounded great at the time, a deduction game where you say what you see but the Shepard Boy always cries Wolf. Great idea… but sadly, even in advanced mode, it's too easy to deduce where everyone is and the game doesn't last long enough to feel tense enough.
Result: Just not good enough
Cheaty Mages
While I liked this game at first, I quickly saw the pattern of putting all your eggs in round one and whoever gets it right wins
Result: Replaced by Shinobi Clans
Eaten By Zombies
Very mean deck builder, very different but brutal. I was devastated on turn one in my game and never recovered but I can see where the game should have gone.
Result: I'd give it another chance.
Nations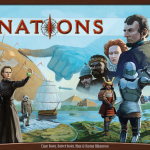 Very simple Civ game that is a lot of fun. Wars are… awkward which lets it down a bit.
Result: I could play it again, or just give me the dice game game!