Game Rewind – July 2014
A look back at games I played for the first time in July 2014.
A very average month.
Legacy: The Testament of Duke de Crecy
A good game that takes up all the table space. It is a very nicely put together game with a unique theme of building a family tree.
Result: I would give this one another go, expansion out soon.
Room 25
A nice hidden traitor game with a great theme.
The fun I had during my first play was destroyed by a negative experience on the second play.
Result: I can leave this now.
Die Kutschfahrt zur Teufelsburg
An interesting but complex hidden role game.
Result: Better, easier, similar games are available.
Kaosball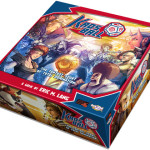 A great sports themed games with loads of teams and players to add variety. I don't get to play this anywhere near as much as I'd like to.
I think the sports theme puts people off… It's hard to convince people this isn't a difficult game to play.
Result: I want to play it more!
Eldritch Horror
A nice evolution of Arkham Horror, a game I already liked.
Result: I would like to play again.
Sheepdogs of Pendleton Hill
A game that is a lot more evil than it looks. VERY evil.
Result: 5 plays was enough.
Cards Against Humanity
I've played this a few times since and it's still OK. The HILARIOUS moments are few and far between.
Result: A filler for larger game days with strangers.