Game Rewind – April 2013
A look at the games I played for the first time in April 2013
Just the one!
Coup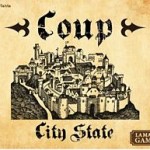 I have played this A LOT since… A LOT.
I love bluffing games and games with hidden roles. Now I do like this game but there is a few problems for me.
The first is it's long and slow compared to games like Love Letter and you're out of the game for long periods of time compared to Avalon or One Night Ultimate Werewolf.
There are plenty of other games similar to this I would rather play.
Result: I would play if it was the only game available.